Quick Summary: Are you on the verge of or have already decided to go with Shopify as your preferred ecommerce platform to power your website? Do you need help answering – how much does Shopify cost? A properly designed and fully functional Shopify website costs around $5000-$20,000. However, this price can vary depending on the Shopify plan you choose and other factors. Here is a detailed Shopify cost breakdown guide that will help you come up with your ideal Shopify budget.
Shopify is a great ecommerce platform if you are looking to launch a user-friendly, fast, secure, and reliable ecommerce website for your business. An average
If you are a first-time entrepreneur planning to build an ecommerce website, you will find Shopify very welcoming due to its simplicity, intuitive user interface, and extensibility. However, there are other alternatives like WordPress (WooCommerce), Adobe Commerce (Magento), and others that are open-source and free to use. If you opt for Shopify you will need to select a Shopify plan and pay some kind of subscription fee to keep your site functional.
You must be wondering, isn't it better to go for open-sourced platforms than Shopify then? Well, that depends on your end goal and the resources at hand. If you have a team of web developers, designers, and other talents, WordPress and other open-source platforms would be more suitable for setting up your ecommerce store.
However, if you are a start-up or an SME that doesn't want the hassle of handling any technicalities of setting up an ecommerce site but still want a high-performing, scalable and extensible platform, Shopify is the right choice for you.
Shopify Cost Benefits – How Shopify helps you save money?
Is Shopify an expensive alternative then? Well not necessarily, here are some of the cost benefits of choosing Shopify as your ecommerce platform: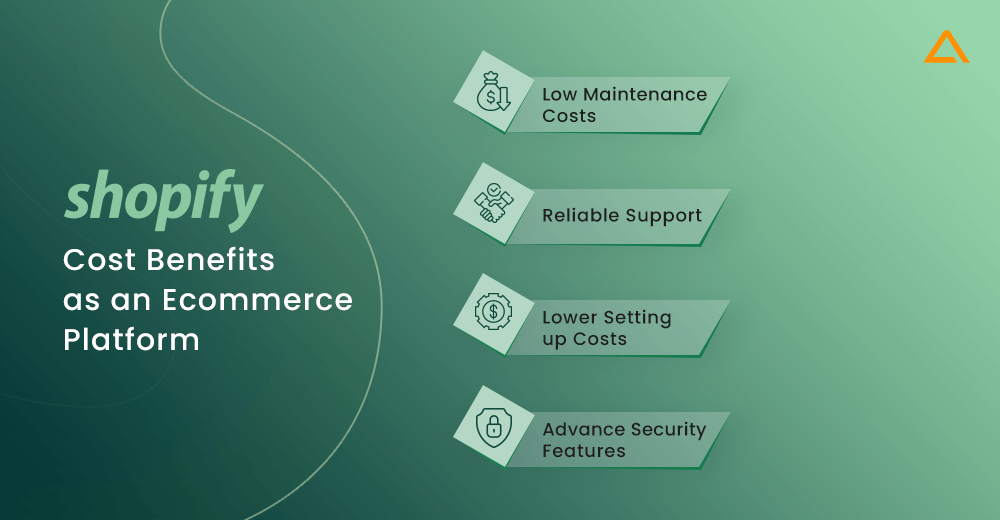 Low Maintenance Costs and Reliable Support
Setting up a WooCommerce store, you are expected to install and develop your site yourself with all the available guides. You can try to do it yourself but generally, ecommerce sites require complex setups and coding skills for which you might have to rely on the skills of professional ecommerce developers. Moreover, since you're on your own, you won't necessarily get dedicated and reliable support for times when you get stuck in the development process as opposed to opting for a Shopify plan where you would get dedicated and priority customer support and won't have to pay much for maintenance as well.
Lower Setting up costs
WooCommerce and other open-source platforms can be downloaded for free and installed with help of a developer's team. Since there is no cost to get started with WooCommerce and other open-source platforms, you can also upgrade or extend the capabilities of your ecommerce store without having to pay any recurring fees. This is highly beneficial when it comes to cost-saving. However, in contrast, you'll end up spending more time as well as money in setting up other technicalities such as hosting, getting an SSL certificate, and paying for a domain name.
In contrast, Shopify takes care of all such hassles for a fee which depends on which Shopify pricing plan you opt for. This recurring fee though could feel expensive, covers all the technical hassles that you probably wouldn't want to spend time and effort on, so that you can focus on core areas of your business.
Security Features
For any ecommerce website, security is of utmost importance. Your store needs to be secure enough for your customers to trust you with their private and financial information. If you are developing a proper ecommerce marketplace, then you also need to assure retailers that their data is safe on your platform. To ensure all this you need to make your website PCI compliant. Basic PCI DSS standards are designed to ensure all companies that accept, store, process, or transmit credit card information have the right security protocols to ensure this data doesn't get in the wrong hands or be compromised. PCI has four levels, with PCI Level 1 being the highest standard of security. Depending on the scope and scale of your ecommerce site, you will need to set it according to the applicable PCI level.
Shopify is a certified Level 1 PCI DSS-compliant platform. All stores powered by Shopify are by default PCI certified. Hence you will not have to worry about the hassle of setting up the highest security standards or spend considerable money and time on implementing such certificates on your ecommerce site. This is a major Shopify cost benefit.
Also Read : Shopify Setup Checklist for your eCommerce Store
Decoding Shopify Month Cost – Costs associated with setting up a Shopify Store
As we know Shopify is not a free-to-use platform and charges additional fees on different aspects of your Shopify store. Understanding these costs can be confusing which makes it difficult to truly evaluate the cost of Shopify for your ecommerce site. There are some fixed Shopify costs whereas some are optional but help improve your Shopify store experience by many folds. Let's understand them one by one:
Shopify Development Cost Factor #1:
Shopify Pricing Plans Breakdown – Which plan is the best for you?
Now that we understand the potential of using Shopify for powering your ecommerce site, we should next discuss the right Shopify plan for your requirements. Shopify fees vary depending on which plan you opt for, as do some of the benefits and features you get:
Here is a quick overview of Shopify pricing plans for 2022:
Shopify Starter Plan – $5/month
ideal for sharing and selling products across social media platforms
Basic Shopify Plan – Monthly plan – $29/month | Yearly plan – $14.44/month
ideal for new ecommerce businesses
Shopify – Monthly Plan – $79/month | Yearly Plan – $39.44 /month
ideal for professional reporting and other features
Advanced Shopify Plan – Monthly Plan – $299/month | Yearly Plan – $147.78/month
lowest transaction fee, best of Shopify
Shopify Plus – starts from $2000/month
for enterprises with high-volume transactions
Shopify Features on all Plans
Before we break down the offerings of all Shopify pricing plans, here are some of the core features you get with all the Shopify pricing plans:
Unlimited Products
Unlimited Bandwidth
Brand Assets
Manual Order Creation
Fraud Analysis
Discount Codes
Staff Accounts
Abandon Cart Recovery
Finance Reports
Customer Support
These are some of the most important features required for running a secure and trustable ecommerce store. Now let's break down the cost of the Shopify store as per your selected plan:
1. Shopify Starter Plan
The Shopify Starter Plan doesn't let you create an online store. However, it enables you to add purchase links on your existing website which works smoothly on all devices like laptops or mobile browsers. You can add this integration to your website built on any third-party CMS like WordPress, Squarespace, Wix, and more. You will be paying a $5 fee per month for this plan and a 5% share of each transaction to Shopify.
Shopify Starter Plan – What do you get?
Payments through Credit Cards Offline and Online
Managing Inventory
Adding Purchase Links on your existing website
Unlimited Product Pages
Shopping Cart
Gift Cards
Contact Page
2. Basic Shopify Plan
Basic Shopify is the cheapest Shopify pricing plan available if you wish to set up a proper ecommerce store. If you opt for the monthly plan, it will cost you $29/month whereas if you opt for the yearly plan, it comes down to $14.44/month. Even the most basic Shopify plan comes with many features that help you set up a properly branded ecommerce store with almost zero coding skills needed.
Basic Shopify Plan – What do you get?
Customizable Ecommerce Store
24/7 Customer Support
Competitive Transaction Fees
Unlimited Product Listings
2 Staff Accounts
Proper Support for Sales Channels
Built-in Blogging Engine
SSL Certificates
International Commerce
Reports
Up to 77% Shipping Discounts
Up to 4 Inventory Locations
3. Shopify Standard Plan
This Shopify plan is one of the most popular Shopify pricing plans and will cost you $79/month for a monthly subscription and $39.44/month for a yearly subscription. At this price point, you can avail almost all the features Shopify has to offer. Naturally, this plan comes with all the features of the Basic Shopify Plan and much more. There are minor upgrades to some aspects such as the number of staff accounts you get as well as additional features such as Shopify POS and more.
Shopify Standard Plan – What do you get?
Competitive Transaction Fees
Unlimited Product Listings
Proper Support for Sales Channels
Built-in Blogging Engine
5 Staff Accounts
Professional Reports
International Commerce
Up to 88% Shipping Discounts
Up to 5 Inventory Locations
Built-in Blogging Engine
SSL Certificates
4. Advanced Shopify Plan
Advanced Shopify is suitable for enterprises that have a large inventory to deal with. This is one of the most premium Shopify pricing plans starting at $299/month for monthly subscriptions and $147.78/month for a yearly subscription. Advanced Shopify plan gets you to use features such as a third-party calculated shipping rate feature where third-party shipping providers can calculate the cost of shipping for all customer's orders during checkout. Your customers also get the benefit of choosing the shipping rate they are most comfortable with. Reporting and performance tracking is also of the highest caliber giving you the best insights about how your store is performing and where it's lacking. All features on Shopify Advanced Plan are set to unlimited, there are no restrictions on storage, product listings, images, video uploads, or any other aspect.
Advanced Shopify – what do you get?
15 Staff Accounts
Advanced Report Builder
Best Transactional Fees & Shipping Rates
Third-Party Calculated Shipping Rates
Unlimited Product Listings
Proper Support for Sales Channels
Built-in Blogging Engine
SSL Certificates
Professional Reports
International Commerce
Up to 88% Shipping Discounts
Up to 5 Inventory Locations
Built-in Blogging Engine
5. Shopify Plus Plan
Shopify Plus is the ultimate offering from Shopify. It is most suitable for businesses that deal with high volume, multiple channels selling operations. Shopify Plus is for large enterprises and provides enterprise-grade features. Getting an accurate estimate for Shopify Plus is difficult since this plan is tailored to individual requirements but they do have a base pricing plan starting from $2000.
Shopify Plus – What do you get?
Personalized Support Services
Dedicated Launch Manager, Project Manager, Merchant Success Manager, Account Manager
Full Automation
Multiple Order Processing from One Spot
Ability to use AI features to enhance Customer Experience
In Search to Hire Shopify Developers?
Hire certified dedicated Shopify developers From Aglowid to build a  robust, scalable, and user-friendly eCommerce store.
Shopify Development Cost Factor #2:
Shopify Transaction Fee Breakdown and Credit Card Charges
Shopify levies a transactional fee for each transaction on your Shopify store using a third-party payment service provider.
The percentage of the transactional fee depends on the plan you choose.
Basic Shopify Plan:
2% fee per transaction
Shopify Standard Plan:
1% per transaction
Advanced Shopify Plan:
5% per transaction
Shopify Development Cost Factor #3:
Credit Card Charges
Now moving to credit card charges, Shopify charges per transaction charge when you accept payment via credit cards. This charge is against the risk associated with credit card payments. The charge percentage per transaction again depends on the plan you subscribe to. But before we get into those rates, you should know about Shopify Payments.
You can make use of Shopify Payments. Shopify Payments supports all popular debit and credit cards like MasterCard, JCB, American Express, and VISA and doesn't charge any extra fees.
Benefits of Shopify Payments
Removes the hassle of setting up third-party merchant accounts/payment providers.
Quick and easy activation
Gives more options to the buyers
Saves money on Transaction Fees
Shopify POS – unify offline sales data with online
Card Verification Value
Fraud Analysis
Address Verification System
Shopify Credit Card Charges as per Shopify Plans
Shopify Payments helps avoid the heavy charges of using third-party payment gateways but it still charges some base fare on credit card payments as per your selected Shopify Plan.
Shopify Basic – 2.9% + 30¢ USD online | 2.7% + 0¢ USD in person
Shopify Standard – 2.6% + 30¢ USD online | 2.5% + 0¢ USD in person
Advanced Shopify – 2.4% + 30¢ USD online | 2.4% + 0¢ USD in person
Also Read : Top Shopify Apps for your eCommerce Store
Shopify Development Cost Factor #4:
Shopify Theming Cost
Shopify provides many customizable themes to design your ecommerce store in no time. It has many free themes as well as paid themes that can go up to $400. Almost all paid themes also include up to 12 months of customer support. Depending on your store requirements you can either go for free themes or select a premium one that provides more customization options and is better suited to your niche. It is advisable to start with a Shopify free theme if you are newly setting up a store.
Alternatively, you can also hire a Shopify design expert to help you design a custom theme for better brand integration and personalization. The costs of hiring a professional Shopify designer will vary based on their level of expertise and other such factors.
[CTA – HIRE SHOPIFY DESIGNERS AT $15/HR TODAY]
Shopify Development Cost Factor #5:
Domain Name
Setting up your website, a domain name is probably the first thing you need to set up. Now if you already have purchased a domain from a third-party provider, you can use it for your Shopify store at no additional cost. Moreover, Shopify includes domain names in all of its plans. All the free domains available on Shopify will have – 'myshopify.com' behind your store name.
If you want a more customizable domain name, the cost for a Shopify custom domain name can range around $12-$85 depending on your domain and other factors.
Pro Tip: It's better to get a custom domain name as adding the 'myshopify.com' extension to your store might make it difficult for users to enter your site in the URL bar as well as seem a little unprofessional.
Shopify Development Cost Factor #6:
Shopify Apps
Shopify provides some remarkable boosters to enhance your Shopify store performance. While some of the Shopify Apps are available for free and provide valuable features, chances are you might need to spend extra bucks for some premium Shopify apps. Shopify app costs generally range between $20 – $80 on average with some premium apps costing more than $400. It can be difficult to decide when to rely on Shopify apps for adding a functionality/feature. It is advisable to consult with Shopify experts from a trusted Shopify development company before making such a decision.
Cost of Shopify Apps – Popular Shopify Apps Prices
Some of the recommended Shopify Apps and their prices:
| | | | |
| --- | --- | --- | --- |
| Shopify Apps | Usage | Free Trial (if any) | Cost of Shopify Apps |
| Loox Product Reviews & Photos | Allow users to add photo/video reviews for your products. Send automatic review email requests to customers. | 14 days | $9.99/month |
| Zendesk | The best app to manage customer interactions across different communication platforms like chat, phone, social media, and email all in one place. | 14 days | $49/month |
| ships out ‑ A/B Test Shipping | The best app to determine how much shipping cost should you charge to your customers. It allows you to create real-time A/B testing to test different shipping rates on your shop. | 7 days | $49/month |
| Rewind Backups | Helps reduce the risk of losing your Shopify store data by automatically backing it up daily. | 7 days | $39/month |
Also Read : Shopify SEO
Shopify Development Cost Factor #7:
Shopify POS Payments
Shopify has a dedicated app in the Shopify ecosystem that allows business owners to sell their products through any channels such as pop-up shops, brick-and-mortar stores, and marketplaces. If syncs data across your online and offline sales across all locations.
Now there are two options for Shopify POS:
Shopify POS Lite
Shopify POS Pro
You can avail of Shopify POS Lite on almost all Shopify plans for free. The lite plan allows you to maintain and manage customer profiles, orders, and products. If you are using a Shopify Plus plan then you can use the Shopify POS Pro plan for free. However, if you are on a standard Shopify plan and want to upgrade to the Shopify POS Pro app, you can do so for an additional cost of $89 for each physical location.
Shopify Cost as per Hiring Model
Okay so now you know all the associated costs and the setting up required to run your Shopify store. Next, you need to decide who will do this job for you. Are you planning to set up your Shopify store yourself? Probably hiring an in-house team of Shopify experts? You could also hire a freelancer or outsource the project to a team of dedicated Shopify experts. Too many options again! Don't worry, let's look at them one at a time:
Building your Shopify Store, Yourself
You can set up a basic instance of a Shopify store with core functionalities working by referring to Shopify documentation and videos available on the net. However, when it comes to adding more complex features such as setting more than one currency, or language, or categorizing products into different listings or collections, most merchants often face many challenges.
Moreover, even if you find a workaround, developing a fully functional Shopify website by yourself can easily take more than 4-5 working days if not more. At this point, if you are a startup, SME, or even a fully-scaled enterprise, you need to ask yourself if it makes sense to invest so much time in the development aspect of your store. That too at the risk of still running into troubles.
Hiring Freelance Shopify Developers
Alternatively, you could hire a freelance Shopify developer to set up your Shopify store. You could try platforms such as Upwork, Fiverr, Turing, and Toptal since they are the most established freelancing platforms on the web.
Again, hiring a freelance Shopify developer makes sense if you want to build an average Shopify store. However, it still doesn't entirely solve the problem of investing time and effort into finding the ideal developer whose skillset and rates match your requirements. Also, it can be difficult to gauge the potential of developers on such platforms.
Rates of Shopify Developers on Different Freelancing Platforms
| | |
| --- | --- |
| Platform | Average Cost of Shopify Developer |
| Upwork | $20-$250/hr |
| Fiverr | $10 – $3000 |
| Toptal | $70 – $120/hr |
| Developers For Hire | $15 – $100/hr |
Hiring Dedicated Shopify Services
If you are looking to completely outsource your Shopify project without having to worry about quality assurance or micromanaging the development process, you should look for professional Shopify development services that take care of your Shopify store development from inception to the outcome. Such companies should be sought when you want to develop a fully functional Shopify store that is reliable, secure, and integrates your brand identity well.
Hiring dedicated Shopify services from countries like the USA, UK and Canada can be very expensive since their developer hourly rates are higher than those of offshore countries like Indonesia, Ukraine, and India.
Shopify Developer Hourly Rates – Cost of Hiring Shopify Developers across the Globe
| | | | | | |
| --- | --- | --- | --- | --- | --- |
| Country | USA | UK | Canada | India | Ukraine |
| Hourly Shopify Developer Rates | $85 – $120 | $100 – $140 | $60 – $150 | $30 – $60 | $45 – $80 |
Hiring In-House Shopify Developers
Alternatively, you can also build your Shopify Development Team by hiring in-house talents who work on your Shopify website full-time. If you have the capital and time to invest in such a module, you can opt for such an option.
You'd have more control over processes and better visibility of the operations with an in-house team however maintaining an in-house team can be an expensive affair. You would need to hire Project Managers, QA Managers, Team Leads, Shopify Experts, Junior Shopify developers, and many other talents. All these talents would have to be paid salaries, yearly increments, bonuses, and other such incentives which could be a costly affair. Besides, the hiring and retention process will be a vicious cycle as well.
Tips and Tricks to Reduce Shopify Costs
Now we have covered all the various costs associated with setting up a Shopify store. As you can already tell the costs can vary greatly based on the scope of your project and the plan you choose. But for all the benefits and features Shopify provides in all its plans, it can still prove to be costly, especially for startups and SMEs.
In our years of experience working on Shopify projects, we have helped clients save up considerable amounts on their Shopify store development. Here are some of the top Shopify cost reduction tips and tricks you should know about:
Leverage Shopify Discounts
The first tip is to leverage the various discounts provided by Shopify for their merchants. Any platform rewards loyalty and commitment, and Shopify is the same. If you opt for their annual, biannual, or three-year payment options, it might cost a considerably much initially, but you will end up saving a considerable amount in the longer run.
Here are the discounts Shopify offers if paid upfront:
10% off on annual plans
20% off on two-year plans
25% off on three-year plans
Downgrade your Shopify Plan
If you already have Shopify but a more premium plan such as Advanced Shopify, consider switching to Shopify Standard if your organization is not able to keep up with the expenses of Advanced Shopify. Downgrading would mean the loss of some important features, but you could always upscale back when your business is more prepared and consistent for scaling.
Using Shopify Payments
We already discussed the benefits of using Shopify Payments before. Using Shopify Payments can help you avoid high charges applied to third-party providers while giving you premium features such as fraud protection and Shopify Capital. Shopify Capital is kind of a cash advance reward for processing a certain amount of payments through Shopify Payments that can be used for growing your business.
Make use of Free Themes
If you are only starting, you can take time to design your Shopify Store to the level you want to see it at. Shopify also has many free themes available which are all mobile responsive, clean and impressive to use. This can help you reduce Shopify costs significantly.
Find Free Shopify Apps
Yes, premium apps provide many features and one-stop-all solutions to most of your requirements. However, if you find the overall Shopify costs are burning a hole in your pocket, you can always find free Shopify app alternatives to reduce the cost of Shopify development significantly.
Leverage Shopify Shipping (Selected Countries Only)
This is a great way of reducing Shopify costs but is only available in countries like the US, Canada, Ireland, the UK, New Zealand, and Australia. Shopify claims you can save up to 88% on US shipping charges with the Shopify Shipping feature. It has zero monthly subscription fee and helps you manage shipping, inventory, products, and customers from a centralized dashboard.
Also Read : How to Design Shopify Store?
Wrapping Up
These are the various factors affecting the overall Shopify development costs. You should keep these pointers in mind before deciding on Shopify for your ecommerce site. Make sure to implement the tips and tricks discussed here to save up considerable money when opting for Shopify development.
have a unique app Idea?
Hire Certified Developers To Build Robust Feature, Rich App And Websites.