Quick Summary:
Do you want to Hire Frontend Developers in India but have no clue how to go about it? Do you need help finding the right frontend developer talent for your project? This ultimate frontend developer hiring guide is catered just for you.  Today we will discuss the various factors to keep in mind when finding frontend developers for hire.
Hiring frontend developers can be a hassle in today's market. There are many offshore frontend development agencies claiming to have the best front end developers for hire. While some of them do provide genuine dedicated talents for hire, it can be difficult assess a company's reliability.
Then you also have freelancing platforms like Upwork and Fiverr where you can find freelance frontend developers at cost-effective rates. Although all of these platforms have an exhaustive list of frontend developer profiles to browse from, which can be time-consuming and daunting.
So, should I just stick to in-house frontend hiring? Sure! If you have the right infrastructure, budget, and a lengthy time-frame.  Finding in-house frontend developer requires setting up a proper recruitment and hiring wing which would cost you a fortune, take considerable time and require a lot of patience to finally find 3-4 worthy talents after screening atheist 100-200 profiles.
All options seem like a dead-end, what do I do now?
Start by understanding the frontend developer market and the role of frontend developer in 2023. If you don't know what you're searching for or how much competition there is for the same talents, how would you come up with an effective frontend hiring plan? Let's dive right into answering these important questions.
Role of Frontend Developer in 2023
What is a front end developer? What does a front end developer do?
The job description for frontend developer has changed significantly over the years. In today's time front-end developer is a loosely coined term that is often interchangeable with full-stack developers that work both on the client-side for managing client interactions, user journeys, user experience and server-side with backend developers for managing the logic, functionality and backend dependent frontend logic.
Frontend is basically the bridge between website design and the backend components. Front end developers are expected to create user experiences by bridging the functional aspect of a website (the backend) to how accurately and efficiently a user is able to leverage those functions or actions when interacting with the site (UI/UX, Content Flow and more).  The main priority for a frontend developer is to make the website less confusing, easier to navigate, accurate to the respective industry and intuitive enough to drive visitors to potential customers.
Here are some of the major frontend developer roles in 2023:
Content Planning & Strategy
Frontend Developers for hire also need to be able to communicate and collaborate with content strategists for coming up with a proper content roadmap, determine the content the company wants to highlight as well as take SEO considerations in mind to ensure better SERP rankings.
UI – Visual Design
Frontend Developers in 2023 are expected to collaborate with visual designers for making important design decisions such as what effects or animations to use, what design style to follow, how feasible is the design to code and check for design responsiveness.
UX – User Experience
Front end developers also work closely with the UX designer team to either improve the existing design's usability or add new features to the project. An experienced front-end developer is able to provide valuable insights about design ideas, adjusting design elements as per accessibility guidelines and other such considerations.
Project Management & Resource Planning
Frontend Developers need different talent resources from time-to-time for creating the perfect frontend architecture for your project. Moreover, they communicate their requirements, progress and other important metrics to the project manager and get valuable insights about the urgency of the project, budgets, resource availability and cost estimates.
Quality Assurance
Frontend Developers also need to work with quality assurance experts to ensure that their developed architecture isn't faulty, missing some vital aspect or requires any kind of modification. Without proper quality assurance in place, the entire effort could go down the drain.
How to Hire Frontend Developer in 2023? – Hire Indian Frontend Developer at Cost Effective Rates
Now that we understand the value of frontend developers and the roles they play in your organization, we can dive right into the frontend developer hiring process that will help you find the best talents for your project in the most optimal and efficient manner. Let's get started:
1. Set Clear Front End Developer Requirements
No one likes ambiguity. Same is true for frontend talents that you want to hire. Before stepping out to hire front end developers, it is important to first understand the requirement you have for hiring this profile. Doing so will also help you finalize a budget, shortlist developer profiles to look for and handle the recruitment process better.
You can assess your frontend developer hiring requirements by asking questions like:
What roles and responsibilities you need them to handle?
Do you need to hire them for long-term basis or contractual basis?
Does their role include managerial duties?
Do you need them to know any specific technology? (React, Angular, Vue)
2. Building a Job Description/Sprint Plan
Depending on whether you are hiring frontend developers on a contractual basis or full-time role, you will have to come up with either a project sprint plan or job description that highlights all their important roles and responsibilities and expected skills needed to be eligible for applying to your job opening.
If you are hiring contractual frontend developers, break down the entire project plan to workable and manageable sprints. This will give the developers a clear idea of the commitment, project flow and amount of work they'll need to put in. Similarly, for full-time role you should clarify the roles and responsibilities they will be mainly responsible for, the scope of their duties and the skills they need.
Sample Frontend Developer Job Description (Full-Time):
Develop and implement user-interfaces for web applications using HTML, CSS and JavaScript
Ensure cross-browser compatibility and responsive UI
Collaborate with backend developers for integrating backend and frontend compatibility
Implement and maintain coding standards, version control systems and best practices
Optimize frontend performance for scalability and speed
Conduct thorough testing and debugging for ensuring smooth user experience and functionality
Active participation in code reviews and giving feedback for improving code quality
Be able to work in agile environments, meeting project milestones and deadlines
Sample Sprint Plan for Contractual Frontend Developers:
Week 1 – Gathering project information and familiarizing themselves with the existing codebase
Week 2 – Implementing responsive design using HTML, CSS and JavaScript
Week 3 – Integrate frontend and backend APIs and Database Systems
Week 4 – Performing thorough testing and fixing bugs for smoother functionality
Week 5 – Optimizing application performance and conducting code review for QA
Week 6 – Provide proper documentation a knowledge transfer to the internal team
Week 7 – Help resolve any post-launch issues and provide ongoing support if needed
3. Advertising the Job Opening/Vacancies
You can build the best job description or sprint plan for filling your frontend developer profile vacancies, however if it doesn't reach and appeal to the right audience, you'll barely get any traction and possible lead of worthy candidates for the role. Effective advertising is the key to reaching the right candidates at the right time. By implementing strategic recruitment methods and utilizing targeted platforms you can find frontend developers that can easily integrate in your frontend dev team.
Here are some effective channels or platforms for advertising frontend developer hiring advertisements:
Advertising Platform
Estimated Frontend Developer Acquisition Cost
Estimated Time to Hire
LinkedIn
Free – $700
3-6 weeks
Developer Communities and Forums
Free
2-4 weeks
Local Job Portals
$200 – $500 per job posting
2-8 weeks
Employee Networks and Referrals
 
Free
2-6 weeks
Company Websites
 
Free
4-8 weeks
LinkedIn is one of the widely popular and most used social media platforms for businesses and professional networking. Companies can put up posts of 'hiring frontend developers' or post a proper job advertisement on LinkedIn's job board. You can target and reach to frontend developers and matching profiles to increase chances of getting their attention and participation. LinkedIn also provides an InMail option – a premium feature that allows members to message other members they are not connected to.  Hence when hiring for senior roles, InMail can be an effective way to get the talent's attention as well.
Developer Communities and Forums
Online developer communities like Stack Overflow, GitHub and official slack channels are good places for resolving development related doubts and conducting proper discussions. However, it is also an undermined platform for finding front end developer for hire. You can post your hiring requirements with the attached job description and see if any members are interested. However, do keep in mind to read the community guidelines and rules before posting job openings, some communities don't appreciate such behaviour and might kick you out for promoting your services or jobs,
Local Job Portals
If you are looking for local talents or your country has specialized job boards for frontend developers, you can try posting your job opening there to find and hire local frontend developers.  However, the scope of talent and skills will be very limited and probably more expensive than other offshore or remote developer hiring portals or agencies.
Employee Networks & Referrals
One of the most overlooked channels of hiring trustable and skilled talents is employee networks and referrals. Tap in to your internal team's social circle and reward them for brining worthy frontend developer profiles to your organization by incentivising them for bringing in the right talents.
Company Websites
You could very well post an advertisement or opening on your website for hiring frontend developers. The cost of such advertisement comes practically to nil but the effectiveness is also not the best especially if you have urgent hiring requirements. The dedicated job portals, social media platforms like LinkedIn and freelancing platforms like Upwork and Fiverr are dedicated resources where frontend developers are actively seeking for job opportunities. Hence, the chances of finding frontend talents on those platforms are higher than on your company website.
Also Read: – Micro Frontend Architecture 101 –Best Practices, Benefits, Limitations & Challenges
4. Select the best platform to Hire Front end Developers
Next you would decide whether you want to hire in-house frontend developers, freelancers or outsourced dedicated freelance developers who work remotely on your project. Each platform and method have certain advantages and limitations over the other and it all boils down to what your requirements are. Here are the many factors to keep in mind before selecting the right platform for your front end dev hiring requirements:
Factors
In-House Developers
Freelance Developers
Outsourcing
Cost
Higher costs in terms of salaries, benefits, infrastructure
Cost-efficient for small tasks or small projects
Significant cost saving with offshore teams
Expertise and Skills
Better understanding of the business goals and objectives
Niche expertise mostly one or two technologies, tools & libraries at most
Access to wider talent pool with access to different skill sets
Project Duration
Immediate response and quick adaptation to changing needs
Flexibility of project duration and scalability
Can work for small-scale, mid-scale or complex projects alike with extended timelines
Control & Ownership
High level of control and management
Control and Ownership through clauses outlined in contract
Intellectual property protection via legal agreements
Communication
Can be onboarded on team easily with face-to-face interactions
Remote work, communication through online platforms and conference calls
Online communication tools, proper sprint communication
Risk Management
Challenges in adapting to changing market situations
Risk of delays, project abandonment or availability
Cultural differences, potential delays and other such issues
Scalability and Strategy
Adapts to business needs
Better for short term or special projects
Being able to access talents on demand and on pay-as-you-go model
Ideal For
· Long Term and Ongoing Projects
· Control over Development Process
· Better Knowledge Transfer and Improved Team Cohesion
· Higher upfront costs
· Better for short-term projects that require specific skills or tool knowledge
· Ideal for companies that have fluctuations in their work load
· Instant access to global talents and quick project completion times
· Ideal for projects with defined scope and tight deadlines
· Access to Global Talent Pool
· Flexible Scaling and descaling as per project needs
· Ideal for companies that want to reduce operational costs
· Access to the best-in-class frontend developers
Hiring In-House Frontend Developers
As you can see hiring in-house frontend developers can be beneficial as all the talents are dedicatedly working on your project for set business hours and have better understanding of your project mission and vision. However, there are some problem areas to this approach as well like team flexibility and adaptability to the future since the talents you hire are on permanent basis and they have a specific set of skills. Replacing or upgrading their talents will be a cost and time concern on the company's expense.
Hiring Freelance Frontend Developers
Freelancer frontend developers are great if you need them to work on a particular module, a small Single Page Application or other basic projects. By hiring them from trusted platforms like Upwork, Fiverr and others you can reduce the risk of false charging and project abandonment to a certain extent. However, you would still need to scroll through their profiles, check for their skills, reviews and previous projects, get them to bid on your job posting and then also accommodate to their divided attention as they might be working on other projects as well.
Quicker Approach to Hiring Frontend Developers – Hiring offshore frontend developers from Aglowid
As you can probably tell the approaches mentioned above are highly tedious, requires a lot of resources and will take considerable time to get to the right talent that you urgently need for your project. Finding the right talent is like searching for a needle in a haystack and requires active participation from your end which delays business decisions and strategies.
What if someone else handled that for you?
That's right, we at Aglowid can help take care of the entire finding and screening talent processes since we have a team of dedicated offshore frontend developers who have been selected and hired after being put through a rigorous, tedious and efficient screening and recruitment process. All you need to do is review the top picked frontend developer profiles for you, interview them to see how they align to your project needs and onboard the selected candidates in 48 hours after final confirmation.
Why Aglowid is the Best Python development Company for you?
Benefits of Hiring Indian Frontend Developers from Aglowid:
You can hire a frontend developer or build frontend developer team from scratch
 Pay-as-you-go model with no long-term contracts
Get developers that work as per your time-zone
Complete confidentiality with code ownership and signed NDA
Agile Development with sprints & transparency in Project Updates
Guaranteed on-time delivery
Cost-effective Frontend developers for hire at 1/4th market price
Reliable maintenance & support services post-deployment
Easy & Seamless Migration Services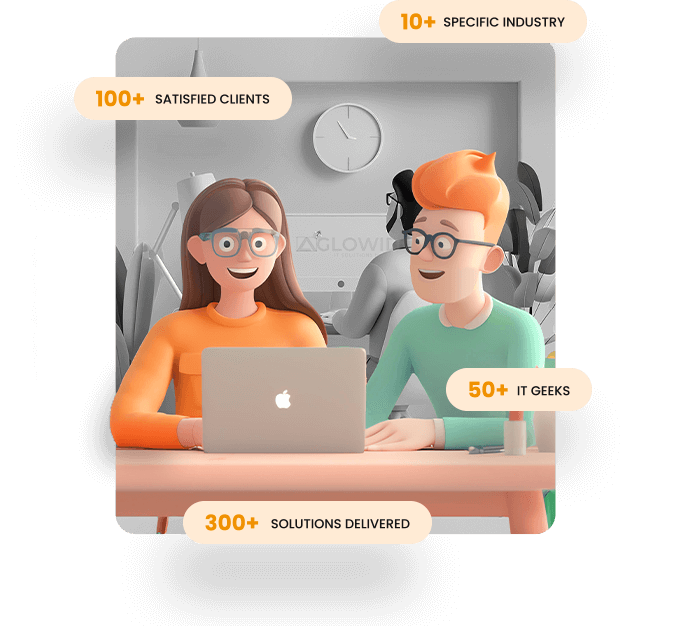 Plus, we don't just excel in conventional development. Our expertise extends to Python GUI frameworks, enabling us to create captivating user interfaces that elevate the user experience of your applications. When it comes to Python development, Aglowid is your steadfast partner.
5. Reviewing and Assessing Frontend Developer Skills
Once you have found potential frontend developer/developers for your project, you will next need to screen and assess them based on their skills, work-culture fit, and suitability to your frontend role. You will need to assess them on the basis of:
Technical Skills
Check for the frontend developer's efficiency with fundamental frontend technologies like HTML, CSS and JavaScript. You should check how much experience they have working on popular JavaScript frameworks such as React, Vue and Angular. Also get an understanding of their clarity on topics like responsiveness, cross-browser compatibility and accessibility.
Quick Frontend Developer Hiring Interview Questions in 2023:
Core Technology and Technical Skills
Sample Frontend Interview Questions
HTML
· Can you explain the purpose and usage of HTML5 Semantic elements?
· How would you handle cross-browser compatibility when coding in HTML?
CSS
· What is the difference between block elements and inline elements?
· How does the box model affect element layout?
JavaScript
· How to handle asynchronous calls in JavaScript?
· Define concepts of closure in JavaScript
· What is TypeScript and is it better than JavaScript?
JavaScript Frameworks
· What are the popular JavaScript frameworks and which one are you proficient in?
· How to handle state management in enterprise grade React application?
Testing and Debugging
· How do you test or debug your existing frontend projects?
· How do you approach identifying and fixing JavaScript errors?
Responsive Design
· How do you make website responsive across all devices and screen sizes?
· What is the proper way of using media queries in CSS?
Problem Identifying Skills & Solving Abilities
Check how well the frontend developer candidates are able to respond to immediate problems or asking them about how they overcome problems in their existing projects. Look for evidence of skill in troubleshooting, finding solutions and keeping a calm composure under pressure. Also check how well they analyse and interpret the problem to begin with.
Seniority Level & Relevant Experience
How much experience does the frontend developer hold? How much experience is required for fulfilling your front end dev hiring vacancy? These are important questions to ask and assess the frontend developer profiles you get as possible candidates. Generally, the breakdown is as:
01
Junior Frontend Developer
1-3 Years of Frontend Developer Experience
2-4 projects worked upon
800+ Development Hours Completed
Suitable for General Level Projects)
02
Mid-Level Frontend Developer
4-8 Years of Frontend Developer Experience
5-10 Projects Worked Upon
1350+ Development Hours Completed
Suitable for Advance Level Projects
03
Senior Frontend Developer
8+ Years of Full-Stack Developer Experience
10-14 Projects Managed
1800+ Development Hours Completed
Suitable when you hire Front end Dev Team
NEED MORE VARIETY OF FRONTEND DEV PROFILES?
Explore our dedicated frontend talents starting at $15/hr
Project Experience
Examine the frontend developer's past project experience and assess the complexity, relevance and scale of their worked projects to your anticipated project and needs. Check how they go about ensuring seamless user experience, proper user flow guide and using visually appealing elements to make the UI look and feel welcoming to the user. Also check how actively they participate throughout the project lifecycle.
Code Quality & Readability
Review how the developer codes and if they follow standard coding conventions, provide proper documentation for their code and if they have experience working in collaborating with other teams. You can get a good understanding and assessment of their code quality through their GitHub repositories or asking them for a code sample task to evaluate their performance.
Design Sensibility
When you need to hire frontend designers you need to ensure they have the eye for attention to detail, proper understanding of UI/UX principles, awareness about the WCAG  2 Guidelines (Web Content Accessibility Guidelines), using design elements like typography, colours and others to ensure they can create a visually appealing and functional user interface.
Communication & Collaboration Skills
Next, check their communication and collaboration skills to be able to discuss the project's loopholes, opportunities and other important metrics with cross-functional teams to come up with effective solutions. Make sure they understand how to communicate and collaborate with other teams that may impact frontend development processes.
Cultural Fit
Assessing cultural fit is important when hiring frontend developers. The key to a successful frontend project is how well tuned and aligned the frontend development team is. It is important that the talent's work ethics and ethos matches that of your company to ensure lesser conflicts and more productive output from the overall team.
Continuous Learning Attitude
Frontend technologies are on the rise and while React, Angular and Vue have retained the popular positions of frontend realm, there are major upgradations coming to all these frameworks with each built release. Hence you need to find frontend developers who have a habit of self-educating and learning about the latest advancements in frontend technologies to ensure they bring true value to your team.
Front end Tools Knowledge
A frontend developer without proper knowledge of tools is as good as a warrior without a sword. Tools play a significant role in maintaining code readability, coding standards and automating redundant processes. Front end developer tools are useful for power enhancement, project management, security, privacy and other important aspects of a well-built frontend project. Here are some of the most fundamental tools your front-end developers should know about –
| | |
| --- | --- |
| Frontend Tool Category | Frontend Dev Tools |
| JavaScript Frameworks | React, Angular, Vue |
| Code Editors and IDEs | Sublime Text, Visual Studio Code, WebStorm |
| Version Control Systems | Git, GitHub, SVN |
| Package Managers | NPM, Yarn |
| Browser Developer Tools | ChromeDevTools |
| Task Runner and Build Tools | Grunt, Gulp, Parcel, Webpack |
| Performance Optimization | Lighthouse, PageSpeedInsights |
6. Salary Negotiations and Final Onboarding
Once you have identified and selected the right candidate after assessing their skills and approach to frontend development, you will engage in salary negotiations.
Good practices for salary negotiations with talents that are worth their merit include –
Considering market rates
Considering the candidates experience and relevant expertise
Understanding their skill levels and expected salary
Budget constraints of your company
Explaining business benefits and non-monetary gains
Finding a middle-path pay that is justified on both ends
Now that you successfully negotiated the salary of the front-end developer for hire you can onboard them using a systematic and pre-organized onboarding plan for smoothly integrating them into your team.
Challenges of Hiring Frontend Developers in 2023
competitive market and expanding tech landscape. There is a surge in the demand of frontend developers and it is difficult to find talents who can qualify and meet all the changing requirements of frontend developer profile.
Even if you find a frontend developer that is technically sound you still need to check for cultural fit, aligning their goals with the company's goals, collaboration and communication skills and much more.
Here are the various challenges associated with hiring frontend developers –
1. Evolving technology landscape
Frontend development landscape is evolving rapidly with newer frameworks, tools and libraries getting introduced every now and then. Finding talents that are updated about these tools, have the right knowledge and are looking for jobs is difficult since the market is aggressively looking for such talents.
Aglowid Solution: We have a team of 50+ dedicated developers who constantly keep upgrading and updating their technology knowledge to accommodate to our client's specific requirements. Moreover, we constantly hire fresh talents after interviewing them thoroughly so you will never face this issue.
2. Diverse Roles and Skillset
Hiring Angular Developers, React Developers and Vue Developers separately as different teams can be a costly affair especially for low to mid-scale businesses. Hence finding frontend developer with multi-specialisation is preferred but challenging.
Aglowid Solution: We have dedicated Indian front-end developers for hire for each technology as well as Project Level Managers with skills in more than framework. They also have worked across several industries like Automotive, Education, Healthcare and others. You can rest assure to find the right talents for your ever-growing needs.
3. High Market Demand
Frontend developers are in high demand these days, leading to tough competition for top talents. Finding local talents or remote talents can be challenging for organizations unless they outsource their hiring requirements to a dedicated frontend talent provider agency.
Aglowid Solution: We have the best front-end developers for hire and we are constantly growing our team. You can fill out your hiring requirements in our contact form and we will get back to you with the best frontend developer profiles to choose from.
4. Demand for Full-Stack Roles
While on paper the job posting reads 'hire frontend developers', most times as the changing requirements and blurring lines of roles and responsibilities most companies looking for front-end developers actually want full-stack developers who can manage the frontend as well as the backend aspect of a project with ease. Finding such talents with full-stack development expertise can be difficult.
Aglowid Solution: All our frontend developers are skilled and experienced working with cross functional teams like backend, designers, database managers, architects and other teams involved in creating a perfect web application. They are skilled to manage and work upon base of all aspects of full-stack development.
How to make strategic choices in Frontend Developer Hiring?
Now that we have everything covered – how to hire front end developers, challenges of hiring front-end developers and qualities to look for in frontend developer profiles, we can talk about certain insider tips to make strategic frontend hiring decisions like –
Hire a Frontend Developer vs Hire a Frontend Team
One strategic decision to make when hiring frontend developers is if you need to hire a front end developer team or individual talents. This decision is based on various considerations and both have their perks and limitations. Ideally hiring an individual frontend developer will be ideal for smaller projects or when you have an existing team but need a special skill or expertise. On the other hand, you should hire frontend team when you are working on a more complex project that requires diverse skillset, expertise and more talents to complete the project.
Budget Estimation
Estimating budgets is important for frontend developer hiring since you'd want the best return on your investment and also stick to your frontend dev hiring budget. Hiring in-house front end engineers come with upfront costs like salaries, benefits and taxes. Hiring freelancers are generally cheaper alternative but you need to be weary of platform charges, payment procedures and other important considerations. Hiring remote frontend developers can be a more budget friendly and viable option if the front end development company offers pay-as-you-go and flexible engagement models.
CHECK AGLOWID ENGAGEMENT MODELS
High Priority vs Low Priority
Is the frontend development project on your top-most priority projects? Do you have a large frontend project with certain features that must be added carefully and efficiently whereas others are not as important? Asking yourself these questions and planning task priority can help you significantly improvise on your frontend developer hiring process while optimizing costs and time estimates.
Remote vs On-Site
You must have heard of terms like on-site developers, nearshore developers and offshore developers. On-site developers are talents in your geographical proximity like the same city or country. The major benefit of hiring on-site frontend engineers is that you get face-to-face interactions and they work under your direct supervision. However, the cost of hiring on-site developers can be higher than that of nearshore or offshore.
Nearshore are geographical locations that are near you, preferably in the same time zone but still not as accessible as on-site developers. You can get frontend programmers at way more cost-effective rates and still manage certain physical communication standards.
Offshore outsourcing is when you hire frontend developers from India, Ukraine or other such offshore locations. Though these locations are further in distance, the talent pool is large in both volume and skills with the cheapest frontend hourly developer rates. Moreover, with the advent of collaboration tools and methods, staying in touch with offshore frontend development companies is also not a hassle.
Contractual vs Full-Time
Deciding if you need developers on contractual or full-time basis would depend upon the nature, urgency and resource requirement of your project. Contractual hiring is ideal when you need flexibility and scalability as you can hire professional front end engineers for specific time-frames or tasks. Full-time developers provide assurance and continuity, deeper integration in the team and long-term commitment but you also pay up more upfront costs to retain and train them as and when needed.
Wrapping up!
With this we bring our ultimate Frontend Developer Hiring Guide in 2023 to an end. We have covered all important aspects, considerations, things to know and best practices to choose when hiring frontend programmers for your project. If you have any concerns or queries yet, you can connect with our expert consultants at – [email protected].
have a unique app Idea?
Hire Certified Developers To Build Robust Feature, Rich App And Websites.